ESSENTIAL JAZZ CLASSICS Red Garland - Paul Chambers - Art Taylor Trio - Complete Studio Recordings A superlative 5-CD set containing all existing studio recordings by one of the best jazz piano trios ever, that of Red Garland, Paul Chambers and Art Taylor. Included are nine complete original albums on Prestige and Moodsville as well as many isolated selections that were only previously issued on compilations. The LP Moodsville appears here on CD for the first time ever! All tracks have been organized chronologically by session. Includes 24-page booklet with original liner notes and artwork. The 9 LPs contained are: A Garland of Red Groovy Red Garlands Piano The P.C. Blues Red Garland Revisited! It's a Blue World Can't See for Lookin Red Garland Trio Moodsville (All Kinds of Weather
ESSENTIAL JAZZ CLASSICS Red Garland - Paul Chambers - Art Taylor Trio - Complete Studio Recordings A superlative 5-CD set containing all existing studio recordings by one of the best jazz piano trios ever, that of Red Garland, Paul Chambers and Art Taylor. Included are nine complete original albums on Prestige and Moodsville as well as many isolated selections that were only previously issued on compilations. The LP Moodsville appears here on CD for the first time ever! All tracks have been organized chronologically by session. Includes 24-page booklet with original liner notes and artwork. The 9 LPs contained are: A Garland of Red Groovy Red Garlands Piano The P.C. Blues Red Garland Revisited! It's a Blue World Can't See for Lookin Red Garland Trio Moodsville (All Kinds of Weather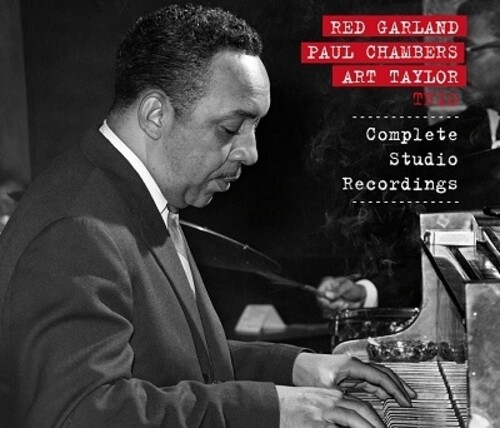 Formats and Editions
1. FOGGY DAY
2. MY ROMANCE
3. WHAT IS THIS THING CALLED LOVE?
4. MAKIN' WHOOPEE
5. SEPTEMBER IN THE RAIN
6. LITTLE GIRL BLUE
7. BLUE RED
8. CONSTELLATION
9. WILLOW, WEEP FOR ME
10. IF I WERE A BELL
11. I KNOW WHY
12. WHAT CAN I SAY? (AFTER I SAY I'M SORRY)
13. PLEASE SEND SOMEONE TO LOVE
14. THE VERY THOUGHT OF YOU
15. STOMPIN' AT THE SAVOY
16. ALMOST LIKE BEING IN LOVE
17. I CAN'T GIVE YOU ANYTHING BUT LOVE
18. WHY WAS I BORN?
19. BUT NOT FOR ME
20. BILLY BOY
21. IT COULD HAPPEN TO YOU
22. YOU KEEP COMING BACK LIKE A SONG
23. EVERYBODY'S SOMEBODY'S FOOL
24. I'M AFRAID THE MASQUERADE IS OVER
25. HEY NOW
26. LOST APRIL
27. WILL YOU STILL BE MINE?
28. C JAM BLUES
29. GONE AGAIN
30. TWEEDLE DEE DEE
31. THE P.C. BLUES
32. SINCE I FELL FOR YOU
33. IT'S A BLUE WORLD
34. TEACH ME TONIGHT
35. THIS CAN'T BE LOVE
36. CRAZY RHYTHM
37. PORTRAIT OF JENNY
38. I CAN'T SEE FOR LOOKIN'
39. SOON
40. IT MIGHT AS WELL BE SPRING
41. A TISKET, A TASKET
42. BLACK OUT
43. CASTLE ROCK
44. BASS-MENT BLUES
45. T'AINT NOBODY'S BUSINESS
46. AND THE ANGELS SING
47. I'LL NEVER STOP LOVING YOU
48. I LOVE YOU, YES I DO
49. BLUES FOR ANN
50. TIS AUTUMN
51. SUMMERTIME
52. SPRING WILL BE A LITTLE LATE THIS YEAR
53. STORMY WEATHER
54. WINTER WONDERLAND
55. RAIN
56. FOUR
57. WALKIN'
More Info:
ESSENTIAL JAZZ CLASSICS Red Garland - Paul Chambers - Art Taylor Trio - Complete Studio Recordings A superlative 5-CD set containing all existing studio recordings by one of the best jazz piano trios ever, that of Red Garland, Paul Chambers and Art Taylor. Included are nine complete original albums on Prestige and Moodsville as well as many isolated selections that were only previously issued on compilations. The LP Moodsville appears here on CD for the first time ever! All tracks have been organized chronologically by session. Includes 24-page booklet with original liner notes and artwork. The 9 LPs contained are: A Garland of Red Groovy Red Garlands Piano The P.C. Blues Red Garland Revisited! It's a Blue World Can't See for Lookin Red Garland Trio Moodsville (All Kinds of Weather
back to top